10.01.2009
It's the first of October.
A big warm welcome to you birthday month! :)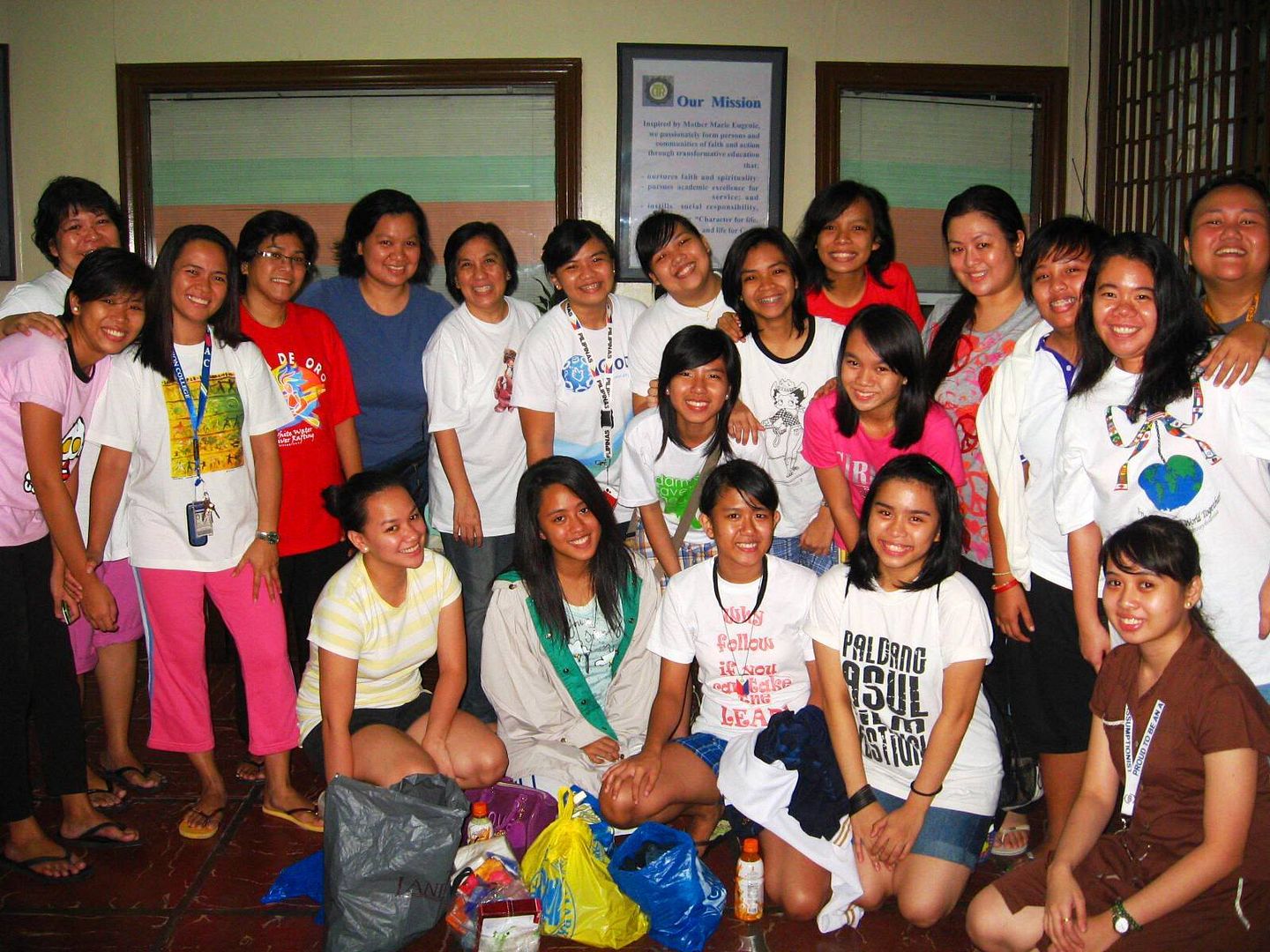 September didn't end well. Not solely for myself, but for the whole nation.
Last September 25, a storm named
Ondoy
hit our country. It submerged almost the whole Metro Manila Region as well as

CALABARZON

(if I have my information correct). It was a disaster, a

state of calamity

. It was not expected and so, almost all of us were unprepared. I wasn't one of those who got trapped inside their houses, most probably in their rooftops, nor was I one who was walking along chest high (or even above that) flood, but, I felt for my fellow men.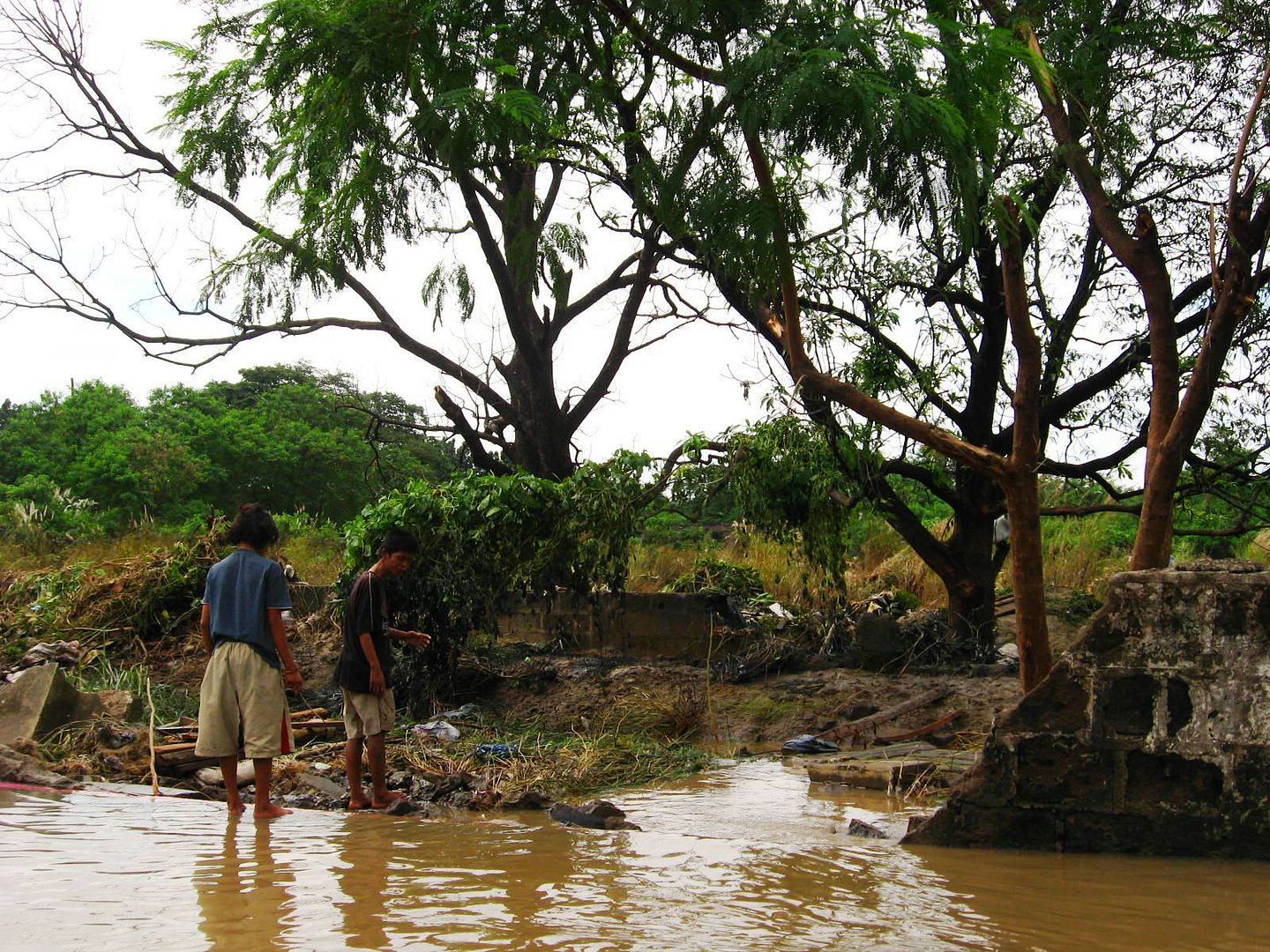 *

Reality was worse than what these pictures show. This is just a fraction of the calamity, and the flood has already subisded a little around this time

It was a packed Saturday, according to my schedule. I had an entrance exam in the morning which will last until a little past lunch time. Aftewards, I wanted to attend our school's band screening. A party was too follow after the said event.

I remember praying the night before, when the rain had started pouring endlessly, for the weather to be a little more cooperative -for my own slefish reasons I am ashamed to state publicly. I woke up the next day, to a still rainy -

stormy

is the more appropariate term to use- dawn. My hopes weren't that high but I proceeded to my morning rituals. I took a bath, ate breakfast, dried my hair in the electricfan (HAHA), and wore an outfit that screamed

band screening

!

AC was my first stop, together with I-ris, Jem, Pau, and Tricia, who all hitched a ride with me. We arrived at the AC Open House a little behind schedule so we got lost inside the campus for a little while, trying to find the registration area. Luckily, AC students were

so

accomodating that one of the students approached us to ask how we're doing. After registering, we proceeded to the auditorium where an orientation and a talk was being held (such good speaker they have and very effective ones at that too!). We met some fellow school mates afterwards who were also going to take the admissions test which was our next agenda. We went to our respective test rooms and took the test. In the middle of taking the test, the electricity went out but it soon returned so there was really no delay in the test. Lunch time followed.

It was an open house like no other. Firstly, we arrived at a campus which blared party music all over the place. There were sponsors and a food buffet along the covered walks which made us excited and elated at the same time. It made us enthusiastic. The next events that followed are mentioned above.

Lunch time. The rain was pouring really hard. The concert was cancelled since the area alotted for that was flooded. My friends and I proceeded to the cafeteria which was packed with people lining up for their food. The ride home was a big confusion. The storm was too foreboding to be tested and braved so we stayed indoors. After a while, it was announced that overnight registration was on going. Obviously, were to sign-up for it. I-ris, Jem, Pau, Tricia, Angel, Camgar, Hannah, Gail, Mariz, Karla, Frans, Lica, Janella, Alexa, and I, together with Gail's mother and Hannah's aunt, stayed the night at AC's campus. All in all, over 300 people stayed the night at the school. Sufficient food was served and there were even two improvised movie rooms. We were all too blessed, provided with all the comforts they could give us. The outside world seemed unreal to us, a nightmare in the depths of our mind which resurfaced every now and then, to be cried and lamented over. It was scary. We were mostly by ourselves and were even struggling in our means to communicate with our relatives who were oustide the boundaries of the place were staying in. Prayers was the most powerful weapon we had in our hands, and we held on to it like it was the only thing left for survival. And it was. Despite the hours of happiness and comfort we brought to each other, news from outside shook us and united us even more. We each bore the feeling of guilt. We were more than safe and protected inside the AC Campus while outside, houses, streets, subdvisions and villages, roads and highways, were being submerged under the rain, by the flood which was higher than a person's average height. We found it hard to imagine, the state of calamity the places familiar to us was experiencing. We found it hard to imagine that people were stranded inside their houses, most probably in their second floors or their rooftops, with no food and other necessities. It was an unbelievable disaster.

The next day, most of the people who stayed went home already. But for some of us, the roads leading to our homes were still flooded or blocked, so we had to stay another night. It seemed more than 2 and a half days, our stay there, but we finally had the chance to go home. Monday morning, I went home with my mother who went to AC Sunday noontime. She was within the area that Saturday but she got stranded in the building she was in because the flood there reached the parking area. The ride home was filled with anticipation. Secretly, we were drawing expectations inside our minds, sketches of what we will be seeing once we went outside Makati.
Garbage was scattered everywhere. Househould furnitures were misplaced along the roads. Some places were still flooded. People were lining-up for relief.

I arrived home, thankful we were safe. I prayed for the rest of the nation, worried about the people I know most.

I slept for the rest of the day.


The next two days, I went to school to help in the relief operation. The afternoon of the second day, we got the chance to be deployed.

It was an eye-opening, life-changing experience, not just for me, but for the whole nation.
I hope that after this, we'll go back to the realities of life, but with a different outlook and a different mindset.

Ciao readers!


Surface to Air
Buckle Sandal
Surface to Air
Usine Bag
Whyred
Selmia Dress
Whyred
Atali Clutch